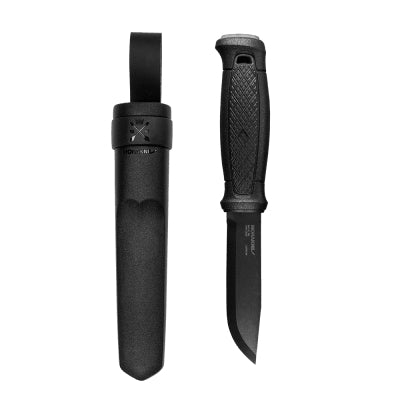 Morakniv Garberg in carbon steel with a black blade is a powerful full tang knife, designed to withstand the toughest challenges imaginable.
The blade of the Morakniv Garberg Black C is 3.2mm thick and made of high quality carbon steel, specially treated in our factory to make it even stronger. It has a special Scandi grind to the edge, making the knife easier to keep sharp. Also, the spine of the blade has been ground to be used with a fire starter. The DLC-coating is not just aesthetically pleasing but resistant to corrosion and scratching. The practical and classy knife sheath in polymer protects the edge when you don't use the knife and with the belt loop attached to your belt the Morakniv Garberg is always close at hand.
This knife has a ground spine. The blade hasn't been polished/buffed and the spine corners are sharp, which make knives with this grinding excellent for use with a fire starter. The adventure awaits!
Features and Specifications:
Usage Area: Bushcraft, Hunting, Outdoor
Edge Protection: Polymer Sheath
Sheath Orientation: Left, Right
Handle Material: Polyamide
Handedness: Left Handed, Right Handed
Model: Morakniv M-13716