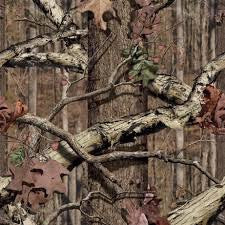 Use Mossy Oak® Graphics Gear Skin to wrap most of your smaller gear and toys with hard surfaces. Mossy Oak Graphics Gear skins use state-of-the-art, UV resistant print technology and premium 3M cast vinyl materials to deliver industry leading camouflage graphics. Camo Gear Skins use pressure-activated adhesives allowing them to be repositioned until firm pressure is applied. You can cover phones, cameras, knife handles, duck calls, binoculars and most other hard-surface items that you may need in the field. This kit includes two sheets of material in Break-up pattern. Each piece is 15" x 8".

Gear Skins are designed to give you the versatility to cover your favorite piece of gear.  Apply Gear Skins to any of the following:  Boating and Marine Accessories, Automotive Components, Electronic Accessories.

** X-acto knife with a pointed blade works best for trimming and edging. 

Gear Skins have specific features that make installation a breeze. These kits are highly durable and can be removed with heat when desired.
3M premium cast vinyl

Ultra high digital resolution

Won't peel, shrink or crack

Air release technology allows for bubble free installation